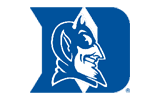 Duke Blue Devils
(33-5, South Region)

Sportsbook.com sponsors our looks at the Final Four teams that are going to be playing on Saturday night! The last team that we'll look at of the four is the only #1 seed that made it to college basketball's grandest stage, the Duke Blue Devils.
How they got here: All season long, the ACC was considered a down conference, but don't tell that to the Blue Devils. They proved that they're still amongst the elite teams in the country by blowing through #16 Arkansas-Pine Bluff 73-44, #8 California 68-53, #4 Purdue 70-57, and #3 Baylor 78-71 to win the South Region.
Season Highlights: Winning three games in as many days in the ACC Tournament was tarnished by the fact that none of the top teams ever got a chance to play Duke. However, no one is going to take away the 76-41 thumping that the Dookies dropped on Gonzaga back in December. Yes, they were 8.5 point favorites on the day, but the Blue Devils absolutely dominated a strong squad from start to finish at MSG, holding the Zags to just 27.8 percent shooting from the field in the romp.
Leading Scorer: Coach K doesn't just have one leading scorer. He has a #1, a #1A, and a #1B. However, statistically speaking, G Jon Scheyer, at 18.2 points per game, leads the club in that category. His 20 point game against the Bears in the Elite 8 was critical, as Duke clearly would not have made it through that round without his clutch play. It was his first 20+ point game since March 6th, and one would like to think that Scheyer is going to have to continue scoring at a high rate to keep the Blue Devils going in the Final Four.
Player to Watch: For the first time in his four year career as a Blue Devil, F Kyle Singler was shut out from the field against Baylor. He shot a woeful 0/10 from the field and 0/5 from beyond the arc, scoring just five free throws on the day. He's averaging over 17 points per game, and he'll be matched up with West Virginia's F Da'Sean Butler all day long in the Final Four. He'll need to bring his "A Game" both offensively and defensively to make an impact for the Dookies in Indianapolis.
Expectations: As the favorites of this tournament from here, the Blue Devils are absolutely expecting a National Championship to go back to Durham. They realize that the tougher of their two tests comes on Saturday night, as the Mountaineers are certainly the second best team left standing in the field. However, Coach K knows that his team won't be able to lose focus for even one second on both Saturday and Monday if he is going to win another title.