Both the New Mexico Lobos and the San Diego State Aztecs know that they are going to be great seeds in the NCAA Tournament. One will probably get a leg up on the other thanks to Saturday night though, when the two meet in college basketball betting action for the league title.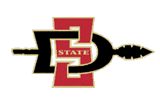 This was supposed to be a bit of a rebuilding year for the Aztecs after losing so much of their team from a year ago. Instead, quite the opposite has happened. Sure, they aren't as dominating of a team as they were over the course of the last year or two, but they are definitely good enough to win this game. They have had two tough games here in Sin City, beating the Boise State Broncos and Colorado State Rams in relatively close encounters. Keep a close eye on Jamaal Franklin and Chase Tapley in this one. Tapley is one of the true sharpshooters of this conference. He is knocking down 42.9 percent of his shots from long range, and he is averaging 15.4 points per game as a result. Franklin is a guard that plays a heck of a lot like a big man. He is averaging 16.9 points and 7.6 rebounds per game, and when given the chance, he can do a lot of damage from the outside as well.
The Lobos have been up and down for bits and pieces of the season. They don't have many of those mind-numbing losses, but they don't have a ton of those ridiculously good wins either. Still, this is a team that does have a road win against the Aztecs this year, and victories like that don't come easily. Drew Gordon is a monster, and he is a man that no one is finding it easy to defend in the Mountain West. He is a double-double player seemingly every night, as he is good for 13.4 points and 10.9 boards per game. The top guards for New Mexico, Kendall Williams and Tony Snell are both good for double digits per game. The rest of these role players have the ability to be clutch, though. Don't forget about the four men, some of which are sitting on the bench at the outset of the game, all of which are averaging between 5.9 and 7.3 points per game. The win over the UNLV Runnin' Rebels was fantastic on Friday, and thanks to a very well rounded team, there is no doubt that the MWC title is within reach.
Join the BTB Expert Handicappers right now! Click Here for our guaranteed NCAA basketball picks
The Final Word: The Lobos are a whopping 21-8 ATS this year for a reason. We've got nothing against the Aztecs, but we think that they just aren't the better team in this one. New Mexico will flex its muscles on Saturday and prove that it belongs as the top rated team in the Mountain West this year in the NCAA Tournament.
San Diego State Aztecs vs. New Mexico Lobos Free Pick: New Mexico Lobos
Adam Markowitz
is a staff writer living in the Orlando area. He has covered NFL, MLB, college football, CFL, AFL, NBA, college basketball, NASCAR, golf, tennis, and the NHL for a number of various outlets in his career, and he has been published by a number of different media outlets, including the Orlando Sentinel and the Wall Street Journal.