ABC Sports will have more NBA betting action this weekend on Saturday afternoon at 3:30 ET for the first game in the clash between the Miami Heat and the New York Knicks.
The Knicks did only just barely get into the playoffs, but they are a dangerous team that nobody really wanted to face. The Heat can't be happy about this. Carmelo Anthony has led New York to a 19-7 ATS mark in the team's last 26 games, which mysteriously corresponds with the timing of firing Head Coach Mike D'Antoni. Melo has averaged 22.6 points per game this year, and he was good for over 28 points per game in the last month of the year. However, it isn't just Melo that makes this team go. The defense really has made the difference under interim coach Mike Woodson. Tyson Chandler is coming on strong as a defender, and he is going to have to lock down most likely Chris Bosh, though he could switch onto LeBron James at times as well. He was good for 9.9 boards per game, but most importantly what he brings to this series is defensive prowess and the knowledge about how to beat this team from last year's NBA Finals with the Dallas Mavericks. Iman Shumpert has also really picked up his game, not as the team's point guard, but as a great perimeter defender.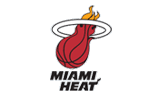 Miami is still the favorite to win it all, but there is clearly at least a level of doubt as to whether or not it will get out of this first round series due to how tough the Knicks are. None of the "Three Amigos" played more than 62 games this year, and all three came up with their stats. They could really be good for the postseason now that they have had some rest. LeBron might be the league's MVP this year. He averaged 27.1 points, 7.9 boards, 6.2 assists, and 1.9 steals per game, and he shot 53.1 percent from the field. There is no doubt that it is one of the best advanced statistical seasons of all-time in NBA history, and that's saying something when you consider guys like Kareem, Oscar, Jordan, Bird, Magic, and the likes. D-Wade has been good for 22.1 points, 4.8 boards, and 4.6 assists per game, while Bosh had 18.0 points and 7.9 rebounds per night. Of course, part of these stats are because they all didn't necessarily sit out at the same time, but still, there is no trio in basketball like this one.
Join the BTB Expert Handicappers right now! Click Here for our guaranteed NBA picks
The Final Word: The Heat are favored by a ton of points in this first game, and we just don't see how they are going to end up winning games in this series by so many points. Take the 8.5 with the Knicks, and know that we think they are going to win at least one of these games in South Beach.
New York Knicks @ Miami Heat Free Pick: New York Knicks +8.5
Adam Markowitz
is a staff writer living in the Orlando area. He has covered NFL, MLB, college football, CFL, AFL, NBA, college basketball, NASCAR, golf, tennis, and the NHL for a number of various outlets in his career, and he has been published by a number of different media outlets, including the Orlando Sentinel and the Wall Street Journal.