The jam packed Big East could get a heck of a lot cloudier on Friday morning in NCAA football betting action, as the South Florida Bulls look to become bowl eligible at the expense of the Louisville Cardinals.
The Cardinals have had themselves a very interesting season this year to say the least. They're only just bowl eligible right now at 6-5, and they have played some games that just make you scratch your head. They were beaten by the Marshall Thundering Herd and the Florida International Golden Panthers at home, and they just barely survived a visit from the Murray State Racers in Week 1 of the season. They had a three game losing streak in October and seemed to surely be destined for an iffy season, but since that point, they have won four out of five and are almost at the point of being in the driver's seat in the Big East. The offense had struggled mightily for a long period of time, failing to score more than 24 points in its first seven games of the campaign. However, since that point, it has logged at least 34 twice, and the end result is a 4-2 record thus far in Big East play with a chance to make it to 5-2 to put a lot of pressure on the rest of the teams at the top of the standings with two weeks to play.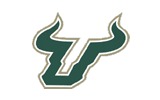 The Bulls have been up and down as well to say the least. They lost a dreadful 6-3 game against the Miami Hurricanes last week right here at Raymond James Stadium, their most recent loss in a season which has featured just one victory since September 24th. That being said, a win in either of these last two games will ensure USF a bowl bid, something that would be a huge accomplishment for Head Coach Skip Holtz and the gang in a year which has been so ridiculously odd. QB BJ Daniels is up in the air in this one after suffering a shoulder injury in last week's loss to Miami. If he can't go, it'll be up to QB Bobby Eveld to get the job done. Eveld has split time with Daniels in the past, and he probably has the better arm of the two signal callers, but he definitely doesn't have the legs to get out of trouble when the pocket breaks down like Daniels does. Against a sneakily vicious Louisville front seven, Eveld might ultimately look like a sitting duck in the pocket if the offensive line doesn't give him time to stand and try to find receivers.
Louisville Cardinals @ South Florida Bulls Pick: In a season that has made no sense whatsoever in the Big East, why wouldn't we want to run with the Bulls? After all, they might not have their starting quarterback, and they are laying points against the team that probably has to be considered the favorite right now in the conference. Though none of that makes sense, what does make sense is the fact that Louisville has never won a game here in Tampa Bay in school history. That won't change on the day after Thanksgiving.
NCAA Football Pick: South Florida Bulls -3 at Bookmaker Sportsbook.
Aaron Ryan
Aaron Ryan has been in the sportswriting biz since the late-90s, and he has worked side by side with some of the best and brightest in sports gambling. Always searching for the best trends in sports, Andrew uses his brilliant math mind to his advantage to beat the books.