Two teams that are hoping to get to the top of the Big Ten Legends Division meet up at Kinnick Stadium on Saturday for college football betting festivities, as the Michigan Wolverines take on the Iowa Hawkeyes.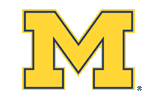 Big Blue doesn't quite control its own destiny in the Legends Division, but our gut says that winning out, whether it includes the Big Ten Championship Game or not, could put the Wolverines into the BCS. If that were to be the case, it would be a huge accomplishment for first year Head Coach Brady Hoke, who would have to at least get some sort of consideration for national Coach of the Year honors. There are two big fears right now with the Wolverines. The first is the lack of a schedule. The Wisconsin Badgers have been dodged, and the team split its only two road games this year, losing the only one against a legitimate national power at the Michigan State Spartans. That being said, there has been no collapse this year to date, though the schedule at the end of the season is significantly tougher than it was at the beginning. QB Denard Robinson is going to have his work cut out for him in this one, though he has already accounted for a total of 2,248 yards and 21 TDs this year. Over the past two seasons, Robinson has averaged 326.0 total yards per game to go with 2.65 touchdowns per game.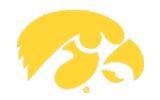 The Hawkeyes have more or less been sitting in the weeds and stalking the rest of this division, but they are just a game back of Michigan, Michigan State, and Nebraska for that top spot. A loss last week at the Minnesota Golden Gophers was horrendous for morale, and though there is still a sentiment that a win in this game could make the team a legitimate Rose Bowl contender, a loss could also bring up the question about bowl eligibility with just one home game and two tough away dates left on the calendar. RB Marcus Coker needs just 31 yards to reach 1,000 for the season on the ground, and he has already found pay dirt 10 times on the campaign. WR Marvin McNutt is having yet another great year, accounting for 858 yards on 48 receptions with nine scores. Expect to see the senior end up with career highs in all of those categories when it's said and done this year in spite of the fact that QB James Vandenburg isn't nearly as sharp as his old quarterback, Ricky Stanzi.
Michigan Wolverines @ Iowa Hawkeyes Pick: The Wolverines need to be very, very careful with this game. Kinnick Stadium has traditionally been a house of horrors for opponents in this conference, and with a 5-0 record intact, there is no reason to believe that the Hawkeyes can't challenge Big Blue in this one. Don't be surprised if this is the first upset on Saturday.
College Football Pick: Iowa Hawkeyes +4 at Bookmaker Sportsbook.
Share it now!
Andrew Ryan
Andrew Ryan has been in the sportswriting biz since the late-90s, and he has worked side by side with some of the best and brightest in sports gambling. Always searching for the best trends in sports, Andrew uses his brilliant math mind to his advantage to beat the books.