There is no doubt that the Miami Heat have begun to flex their muscles here in the Eastern Conference Quarterfinals. They look to deal a crippling blow to the Philadelphia 76ers in NBA playoff betting action on Thursday night in the City of Brotherly Love.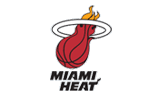 There really haven't been a ton of teams that have looked fantastic over the course of the first two games in the playoffs, but the Heat are really an exception to the rule. Sure, Miami didn't beat the 10.5 point NBA spread in Game 1 of this series, but it didn't have any troubles in Game 2 beating a similar number. Neither game was really ever in doubt, and in both cases, the defense has really come to play. The Heat have only allowed a total of 162 points in two games. The scariest thing about Miami right now is that we know that we haven't seen its best play. LeBron James is doing his thing, averaging 25.0 points, 10.5 boards, and 5.5 assists per game, while Chris Bosh is doing great as well at 23.0 points and 11.5 rebounds per game. However, Dwyane Wade, relatively speaking, has been nowhere to be found. He has just 31 points in two games to go with 13 rebounds and just seven assists. We know that "Flash" isn't going to be kept down forever, and when he explodes, it could make for a long, long series for whichever unlucky team is in his way.
Philadelphia knows that it has to find a way to get off of the mat to win this game. The team scored just 31 points in the first half against the Heat, something that won't win you anything in the playoffs (not that the 42 points in the second half was really all that much better). The Sixers shot just 34.2 percent from the field for the game and 65.0 percent from the foul line, two numbers that must improve drastically. The only man that is really doing anything to keep them in this series is Thaddeus Young off of the bench. Young is averaging 19.0 points and 8.5 rebounds per game in the postseason, something that is incredibly shocking for a man that only averaged 12.7 points per game in the regular season. The player that really needs to step up is Andre Iguodala. The star of the show for the boys from the City of Brotherly Love is doing a great job with his intangibles, accounting for 7.5 rebounds and 8.0 assists per game. However, he has nine turnovers in the series, which is the exact same amount of points that he has as well. He's shooting just 26.7 percent from the floor, a number which has to get better.
Miami Heat vs. Philadelphia 76ers Pick: The 76ers are just overmatched here. Miami looks like it flipped the proverbial switch in Game 2, and we wouldn't be surprised if this series doesn't make its way back to South Beach. Go with the Heat -4.5
Adam Markowitz
is a staff writer living in the Orlando area. He has covered NFL, MLB, college football, CFL, AFL, NBA, college basketball, NASCAR, golf, tennis, and the NHL for a number of various outlets in his career, and he has been published by a number of different media outlets, including the Orlando Sentinel and the Wall Street Journal.